About Us
Golden Jade is a Chinese takeaway in Eastleigh. Why don't you try our Mushrooms Chop Suey or King Prawns with Onions in House Special Sauce?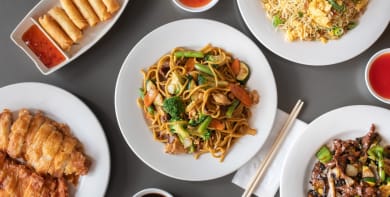 Reviews
338 reviews
Gillian
"Had food from here before"
23/07/2021
Neil
"First time ordering, will definitely be ordering again"
22/07/2021
Jane
"Lovely meal as always. Cannot fault the food or service. Just don't understand why you don't get free prawn crackers though like the rest of the restaurants!!"
14/07/2021
Charlie
"Food was hot and very tasty, very good!"
10/07/2021
Menu
Hot Imperial Starter with Satay Sauce Dip
For 2 persons
Sesame Prawn Toast, Crispy Seaweed, Peking Spring Rolls, Chicken Satay Skewers, Spicy Spare Ribs
£10.00
Deep Fried King Prawn with Salt & Chilli
Hot
Cereals gluten
Eggs
Shrimps
Sesame
£6.70
Deep Fried Chicken with Salt & Chilli
Hot
Cereals gluten
Eggs
Sesame
£6.00
Deep Fried Chicken Wings with Salt & Chilli
Hot
6 Pieces
Cereals gluten
Soya
Eggs
Oyster
Sesame
£6.00
Deep Fried Chicken Wings with House Special Sauce
Hot, 6 pieces
Cereals gluten
Soya
Eggs
Oyster
Sesame
£6.00
Deep Fried Chicken Wings with Honey Sauce
6 Pieces
Cereals gluten
Soya
Eggs
Oyster
Sesame
£6.00
Deep Fried Squid with Salt & Chilli
Hot
Cereals gluten
Eggs
Squid
Sesame
£6.50
Deep Fried Squid with Sweet & Sour Sauce
Cereals gluten
Eggs
Squid
Sesame
£6.50
Deep Fried Shredded Beef in Honey Sauce
Large
Cereals gluten
Eggs
Sesame
£6.20
Deep Fried Shredded Beef with Salt & Chilli
£6.40
Deep Fried Shredded Chicken in Honey Sauce
Large
Cereals gluten
Eggs
Sesame
£6.40
Deep Fried Shredded Chicken with Salt & Chilli
£6.40
Chicken Satay Skewers (4)
Cereals gluten
Peanuts
Soya
Mustard
Shrimps
Sesame
Celery
Sulphur dioxide
£5.60
Deep Fried Steamed Bread in Honey Sauce
£5.00
Deep Fried Steamed Bread with Salt & Chilli
Spicy
£5.00
Sesame Prawn Toast
Cereals gluten
Eggs
Shrimps
Sesame
£4.30
Crispy Seaweed
Sesame
Eggs
Soya
Cereals gluten
Fish
£4.30
Crispy Pancake Roll
Cereals gluten
Shrimps
Sesame
£2.60
Crispy Peking Spring Rolls
2 pieces
Cereals gluten
Shrimps
Oyster
Sesame
£3.00
Peking Duck Spring Rolls (3)
£3.00
Mini Vegetable Spring Rolls (10)
£3.00
Chicken & Sweetcorn Soup
Eggs
Sesame
£3.00
Crab Meat & Sweetcorn Soup
Crab
Eggs
Sesame
£3.50
Won Ton Soup
Shrimps
Sesame
£3.50
Chicken & Noodle Soup
Cereals gluten
Soya
Sesame
£2.80
Hot & Sour Soup
Peking style
Hot
Cereals gluten
Soya
Eggs
Shrimps
Sesame
£3.20
Chicken & Mushroom Soup
Cereals gluten
Soya
Sesame
£2.80
Aromatic Crispy Duck Quarter
Served with spring onions, cucumber, pancake & Hoisin sauce
Cereals gluten
Soya
Oyster
Sesame
£10.50
Aromatic Crispy Duck Half
Served with spring onions, cucumber, pancake & Hoisin sauce
Cereals gluten
Soya
Oyster
Sesame
£20.00
Aromatic Crispy Duck Whole
Served with spring onions, cucumber, pancake & Hoisin sauce
Cereals gluten
Soya
Oyster
Sesame
£38.50
Sliced Roasted Duck with Onions in House Special
Hot
Sauce
Served in a delicious hot & spicy sauce
Cereals gluten
Shrimps
Oyster
Sesame
£6.90
Sliced Roasted Duck with Mushroom
Cereals gluten
Soya
Oyster
Sesame
£6.90
Sliced Roasted Duck with Pineapple
Cereals gluten
Soya
Oyster
Sesame
£6.90
Sliced Roasted Duck with Chinese Style
Cereals gluten
Soya
Oyster
Sesame
£6.90
Sliced Roasted Duck with Sweet Corns
£6.90
Sliced Roasted Duck with Lemon Sauce
Cereals gluten
Soya
Sesame
£6.90
Sliced Roasted Duck with Plum Sauce
Cereals gluten
Soya
Sesame
£6.90
Sliced Roasted Duck with Cashew Nuts
Cereals gluten
Nuts
Soya
Oyster
Sesame
£6.90
Sliced Roasted Duck with Green Pepper
And black bean sauce
Hot
Cereals gluten
Soya
Oyster
Sesame
£6.90
Sliced Roasted Duck with Szechuan Style
Hot & spicy
With Chinese Preserved Vegetables & Hot Chilli Sauce
Cereals gluten
Soya
Oyster
Sesame
£6.90
King Prawns with Onions in House Special Sauce
Served in a delicious hot & spicy sauce
Cereals gluten
Fish
Shrimps
Sesame
£6.70
King Prawns with Ginger & Spring Onions
Cereals gluten
Soya
Shrimps
Oyster
Sesame
£6.70
King Prawns with Green Pepper & Black Bean Sauce
Hot
Cereals gluten
Soya
Shrimps
Oyster
Sesame
£6.70
King Prawns with Bamboo Shoots & Water Chestnuts
Cereals gluten
Soya
Shrimps
Oyster
Sesame
£6.70
King Prawns with Cashew Nuts
Nuts
Cereals gluten
Soya
Shrimps
Oyster
Sesame
£6.70
King Prawns with Sweet Corns
£6.70
King Prawns with Satay Sauce
Served in a hot & spicy peanut sauce
Cereals gluten
Soya
Mustard
Peanuts
Shrimps
Oyster
Sesame
Celery
Sulphur dioxide
£6.70
King Prawns with Mushrooms in Black Bean Sauce
Cereals gluten
Soya
Shrimps
Oyster
Sesame
£6.70
King Prawns with Mushrooms
Cereals gluten
Soya
Shrimps
Oyster
Sesame
£6.70
King Prawns with Oyster Sauce
Cereals gluten
Soya
Shrimps
Oyster
Sesame
£6.70
King Prawns with Mandarin Style
Served in garlic & Chinese wine sauce
Cereals gluten
Soya
Shrimps
Oyster
Sesame
£6.70
Kung Po King Prawns
Served with cashew nuts & hot spicy sauce
Cereals gluten
Nuts
Soya
Eggs
Shrimps
Oyster
Sesame
£6.70
Szechuan Chilli King Prawns
With Chinese preserved vegetables & hot chilli sauce
Hot
Cereals gluten
Soya
Shrimps
Oyster
Sesame
£6.70
Chicken with Onions in House Special Sauce
Served in a delicious hot & spicy sauce
Cereals gluten
Fish
Shrimps
Sesame
£6.00
Fried Chicken Mandarin Style
In garlic & Chinese wine sauce
Cereals gluten
Soya
Oyster
Sesame
£6.00
Fried Chicken in Lemon Sauce
Eggs
Sesame
£6.00
Fried Chicken in Orange Cointreau Sauce
Eggs
Sesame
£6.00
Chicken with Cashew Nuts
Cereals gluten
Nuts
Soya
Oyster
Sesame
£6.00
Chicken with Ginger & Spring Onions
Cereals gluten
Soya
Oyster
Sesame
£6.00
Chicken with Green Pepper & Black Bean Sauce
Hot
Cereals gluten
Soya
Oyster
Sesame
£6.00
Chicken with Mushrooms in Black Bean Sauce
Cereals gluten
Soya
Oyster
Sesame
£6.00
Chicken with Mushrooms
Cereals gluten
Soya
Oyster
Sesame
£6.00
Chicken with Bamboo Shoots & Water Chestnuts
Cereals gluten
Soya
Oyster
Sesame
£6.00
Chicken with Satay Sauce
In a hot & spicy peanut sauce
Mustard
Cereals gluten
Soya
Peanuts
Shrimps
Oyster
Sesame
Celery
Sulphur dioxide
£6.00
Chicken with Pineapple
Cereals gluten
Sesame
£6.00
Chicken with Oyster Sauce
Cereals gluten
Soya
Oyster
Sesame
£6.00
Chicken with Mixed Vegetables
Milk
Sesame
£6.00
Roasted Chicken Chinese Style
Cereals gluten
Soya
Oyster
Sesame
£6.00
Szechuan Chilli Chicken
With Chinese preserved vegetables & hot chilli sauce
Cereals gluten
Soya
Oyster
Sesame
£6.00
Kung Po Chicken
With cashew nuts & hot spicy sauce
Nuts
Cereals gluten
Soya
Eggs
Oyster
Sesame
£6.00
Deep Fried Shredded Chicken Szechuan Style
Large, hot & spicy
Cereals gluten
Soya
Eggs
Oyster
Sesame
Celery
£6.50
Deep Fried Shredded Chicken Sweet Sour
Large, Sweet & sour sauce
Cereals gluten
Soya
Eggs
Oyster
Sesame
Celery
£6.50
Deep Fried Shredded Chicken House Special
Large,
In house special sauce, delicious hot & spicy sauce
Cereals gluten
Eggs
Fish
Shrimps
Oyster
Sesame
Celery
£6.50
Prawns with Onions in House Special Sauce
In a delicious hot & spicy sauce
Cereals gluten
Fish
Shrimps
Sesame
£5.90
Prawns with Cashew Nuts
Nuts
Cereals gluten
Soya
Shrimps
Oyster
Sesame
£5.90
Prawns with Green Pepper & Black Bean Sauce
Cereals gluten
Soya
Shrimps
Oyster
Sesame
£5.90
Prawns with Ginger & Spring Onions
Cereals gluten
Soya
Shrimps
Oyster
Sesame
£5.90
Prawns with Bamboo Shoots & Water Chestnuts
Cereals gluten
Soya
Shrimps
Oyster
Sesame
£5.90
Prawns with Satay Sauce
In a hot & spicy peanuts sauce
Mustard
Cereals gluten
Soya
Peanuts
Shrimps
Oyster
Sesame
Celery
Sulphur dioxide
£5.90
Prawns with Mushrooms
Cereals gluten
Soya
Shrimps
Oyster
Sesame
£5.90
Prawns with Mushrooms in Black Bean Sauce
Cereals gluten
Soya
Shrimps
Oyster
Sesame
£5.90
Prawns with Pineapple
Cereals gluten
Soya
Shrimps
Sesame
£5.90
Szechuan Chilli Prawns
With Chinese preserved vegetables & hot chilli sauce
Cereals gluten
Soya
Shrimps
Oyster
Sesame
£5.90
House Special Chop Suey
Cereals gluten
Soya
Shrimps
Oyster
Sesame
£6.00
King Prawns Chop Suey
Cereals gluten
Soya
Shrimps
Oyster
Sesame
£6.70
Chicken Chop Suey
Cereals gluten
Soya
Oyster
Sesame
£5.60
Prawn Chop Suey
Cereals gluten
Soya
Shrimps
Oyster
Sesame
£5.60
Beef Chop Suey
Cereals gluten
Soya
Oyster
Sesame
£5.60
Roasted Pork Chop Suey
Cereals gluten
Soya
Oyster
Sesame
£5.60
Pork Chop Suey
Cereals gluten
Soya
Oyster
Sesame
£5.60
Mushrooms Chop Suey
Cereals gluten
Soya
Oyster
Sesame
£5.60
Beef with Onions in House Special Sauce
In a delicious hot & spicy sauce
Cereals gluten
Fish
Shrimps
Sesame
£6.00
Beef with Ginger & Spring Onions
Cereals gluten
Soya
Oyster
Sesame
£6.00
Beef with Green Pepper & Black Bean Sauce
Cereals gluten
Soya
Sesame
£6.00
Beef with Mushrooms in Black Bean Sauce
Cereals gluten
Soya
Oyster
Sesame
£6.00
Beef with Mushrooms
Cereals gluten
Soya
Oyster
Sesame
£6.00
Beef with Bamboo Shoots & Water Chestnuts
Cereals gluten
Soya
Oyster
Sesame
£6.00
Beef with Oyster Sauce
Cereals gluten
Soya
Oyster
Sesame
£6.00
Beef with Satay Sauce
In a hot & spicy peanuts sauce
Peanuts
Cereals gluten
Soya
Mustard
Shrimps
Oyster
Sesame
Celery
Sulphur dioxide
£6.00
Beef with Cashew Nuts
Cereals gluten
Milk
Sesame
£6.00
Szechuan Chilli Beef
With Chinese preserved vegetables & hot chilli sauce
Cereals gluten
Soya
Oyster
Sesame
£6.00
Deep Fried Shredded Beef Szechuan
Large, hot & spicy
Cereals gluten
Soya
Eggs
Fish
Oyster
Sesame
Celery
£6.50
Deep Fried Shredded Beef Sweet Sour
Large, In sweet & sour sauce
Cereals gluten
Soya
Eggs
Fish
Oyster
Sesame
Celery
£6.50
Deep Fried Shredded Beef House Special
Large
Delicious hot & spicy sauce
Cereals gluten
Eggs
Fish
Shrimps
Oyster
Sesame
Celery
£6.50
Barbecued Spare Ribs
Cereals gluten
Soya
Oyster
Sesame
£6.70
Sweet & Sour Spare Ribs
Chopped
Cereals gluten
Soya
Oyster
Sesame
£6.70
Spare Ribs with Green Pepper & Black Bean Sauce
Chopped
Cereals gluten
Soya
Oyster
Sesame
£6.70
Spare Ribs with Salt & Chilli
Chopped, Dry & Spicy
Cereals gluten
Soya
Oyster
Sesame
£6.70
Spare Ribs with House Special Sauce
Chopped, served in a delicious hot & spicy sauce
Cereals gluten
Soya
Fish
Shrimps
Oyster
Sesame
£6.70
Spare Ribs with Honey Sauce
Chopped
Cereals gluten
Soya
Oyster
Sesame
£6.70
Pork with Onions in House Special Sauce
Served in a delicious hot & spicy sauce
Cereals gluten
Fish
Oyster
Sesame
£6.00
Pork with Satay Sauce
Served in a hot & spicy peanut sauce
Peanuts
Shrimps
Cereals gluten
Soya
Mustard
Oyster
Sesame
Celery
Sulphur dioxide
£6.00
Pork with Mushrooms
Cereals gluten
Soya
Oyster
Sesame
£6.00
Pork with Mushrooms in Black Bean Sauce
Cereals gluten
Soya
Oyster
Sesame
£6.00
Pork with Green Pepper in Black Bean Sauce
Cereals gluten
Soya
Oyster
Sesame
£6.00
Pork with Bamboo Shoots & Water Chestnuts
Cereals gluten
Soya
Oyster
Sesame
£6.00
Pork with Ginger & Spring Onions
Cereals gluten
Soya
Oyster
Sesame
£6.00
Roasted Pork with Mushrooms
Cereals gluten
Soya
Oyster
Sesame
£6.00
Roasted Pork with Cashew Nuts
Nuts
Cereals gluten
Soya
Oyster
Sesame
£6.00
Roasted Pork with Onions in House Special Sauce
Served in a delicious hot & spicy sauce
Cereals gluten
Soya
Oyster
Sesame
£6.00
Szechuan Chilli Roasted Pork
Served with Chinese preserved vegetables & hot chilli sauce
Cereals gluten
Soya
Oyster
Sesame
£6.00
Kung Po Pork
Served with cashew nuts & hot spicy sauce
Cereals gluten
Nuts
Soya
Oyster
Sesame
£6.00
Roasted Pork with Satay Sauce
Served in a hot & spicy peanut sauce
Peanuts
Shrimps
Sulphur dioxide
Celery
Mustard
Cereals gluten
Soya
Oyster
Sesame
£6.00
Sweet & Sour Mixed (Balls)
10 Pieces
Cereals gluten
Shrimps
Sesame
£6.50
Sweet & Sour King Prawn (Balls)
10 Pieces
Cereals gluten
Shrimps
Sesame
£6.70
Sweet & Sour Chicken (Balls)
10 Pieces
Cereals gluten
Sesame
£5.90
Sweet & Sour Pork (Balls)
10 pieces
Cereals gluten
Sesame
£5.80
Sweet & Sour Mixed
Hong Kong style
Cereals gluten
Soya
Eggs
Oyster
Sesame
£6.60
Sweet & Sour King Prawns
Hong Kong style
Cereals gluten
Soya
Eggs
Shrimps
Oyster
Sesame
£6.70
Sweet & Sour Chicken
Hong Kong style
Cereals gluten
Soya
Eggs
Oyster
Sesame
£5.90
Sweet & Sour Pork
Hong Kong style
Cereals gluten
Soya
Eggs
Oyster
Sesame
£5.90
House Special Curry
With beef, chicken & prawns
Cereals gluten
Soya
Mustard
Eggs
Shrimps
Sesame
Celery
Sulphur dioxide
£6.90
Mixed Meat Curry
With beef, chicken & pork
Cereals gluten
Soya
Mustard
Eggs
Sesame
Celery
Sulphur dioxide
£6.90
King Prawn Curry
Cereals gluten
Soya
Mustard
Eggs
Shrimps
Sesame
Celery
Sulphur dioxide
£6.90
Prawn Curry
Cereals gluten
Soya
Mustard
Eggs
Shrimps
Sesame
Celery
Sulphur dioxide
£6.40
Chicken Curry
Cereals gluten
Soya
Mustard
Eggs
Sesame
Celery
Sulphur dioxide
£6.40
Beef Curry
Cereals gluten
Soya
Mustard
Eggs
Sesame
Celery
Sulphur dioxide
£6.40
Pork Curry
Cereal Gluten
Soya
Mustard
Egg
Sesame
Celery
Sulphur Dioxide
£6.40
Roasted Pork Curry
Cereal Gluten
Soya
Mustard
Egg
Sesame
Celery
Sulphur Dioxide
£6.40
Mixed Vegetables Curry
Cereal Gluten
Soya
Mustard
Egg
Sesame
Celery
Sulphur Dioxide
£5.80
Mushroom Curry
Cereal Gluten
Soya
Mustard
Egg
Sesame
Celery
Sulphur Dioxide
£5.80
Shredded Roast Pork Foo Yung
£5.70
House Special Foo Yung
Cereals gluten
Eggs
Shrimps
Sesame
£6.40
King Prawn Foo Yung
Eggs
Shrimps
Sesame
£6.70
Prawn Foo Yung
Eggs
Shrimps
Sesame
£5.70
Chicken Foo Yung
Eggs
Sesame
£5.70
Shredded Roasted Pork Foo Yung
Cereals gluten
Soya
Eggs
Sesame
£5.70
Mushroom Foo Yung
Eggs
Sesame
£5.50
Peking Style Chilli King Prawn
Cereals gluten
Shrimps
Sesame
£6.70
Peking Style Chilli Roasted Duck
Cereals gluten
Sesame
£6.70
Peking Style Chilli Prawn
Cereals gluten
Shrimps
Sesame
£6.10
Peking Style Chilli Beef
Cereals gluten
Sesame
£6.10
Peking Style Chilli Chicken
Cereals gluten
Sesame
£6.10
Peking Style Chilli Pork
Cereals gluten
Sesame
£6.10
Peking Style Chilli Roasted Pork
Cereals gluten
Soya
Sesame
£6.10
Golden Jade Special
Large
Hot & Spicy
Gentle stir fried king prawn, beef, chicken cooked in a hot & fruity house special sauce, with chilli & lemon grass, giving unique pungent flavour which is both spicy & sharp
Cereals gluten
Soya
Fish
Shrimps
Sesame
£7.00
Peking Chilli Sensation
Large.
An exquisite dish of king prawn, beef, chicken cooked with fresh chilli & different kinds of Chinese spices, hot & spicy
Cereals gluten
Soya
Shrimps
Sesame
£7.00
Happy Family
Large
An exquisite dish of king prawn, roasted pork, chicken, beef & vegetables cooked in a black bean sauce
Cereals gluten
Soya
Shrimps
Oyster
Sesame
Celery
£7.00
Mushroom Delight
Large
Gentle stir fried king prawn, beef & chicken with mushroom, onion, green pepper in garlic & soy sauce
Cereals gluten
Soya
Shrimps
Oyster
Sesame
Celery
£7.00
House Special Chow Mein
With mixed meat & mixed vegetables, top with barbecued sauce
Cereals gluten
Soya
Shrimps
Oyster
Sesame
£6.60
King Prawn Chow Mein
Cereals gluten
Soya
Shrimps
Sesame
£6.60
Shredded Roasted Duck Chow Mein
Cereals gluten
Soya
Sesame
£6.60
Prawn Chow Mein
Cereals gluten
Soya
Shrimps
Sesame
£5.90
Chicken Chow Mein
Cereals gluten
Soya
Sesame
£5.90
Beef Chow Mein
Cereals gluten
Soya
Sesame
£5.90
Pork Chow Mein
Cereals gluten
Soya
Sesame
£5.90
Roasted Pork Chow Mein
Cereals gluten
Soya
Sesame
£5.90
Singapore Chow Mein
Hot & spicy
Peanuts
Cereals gluten
Soya
Shrimps
Sesame
Sulphur dioxide
Celery
Mustard
Chicken
Roast pork
£5.90
Singapore Vermicelli (Noodles)
Hot & spicy
Peanuts
Cereals gluten
Soya
Shrimps
Sesame
Mustard
Celery
Sulphur dioxide
Chicken
Roast pork
£5.90
Fried Vegetable Vermicelli Singapore Style
Hot & spicy
Peanuts
Cereals gluten
Soya
Shrimps
Sesame
Mustard
Celery
Sulphur dioxide
£5.90
Yeung Chow Chow Mein
With chicken, roasted pork & prawn
Cereals gluten
Soya
Shrimps
Sesame
£5.90
Mushroom Chow Mein
Cereal Gluten
Soya
Sesame
£5.90
Vegetable Chow Mein
Cereal Glutem
Soya
Sesame
Celery
£5.90
Plain Chow Mein with Beansprouts
Small
Cereal Gluten
Soya
£4.80
House Special Fried Rice
Large. With mixed meat & mixed vegetables, top with barbecued sauce
Cereals gluten
Soya
Eggs
Shrimps
Oyster
Sesame
£6.50
Shredded Roasted Duck Fried Rice
Cereals gluten
Soya
Eggs
Sesame
£6.50
King Prawn Fried Rice
Cereals gluten
Soya
Eggs
Shrimps
Sesame
£6.50
Prawn Fried Rice
Cereals gluten
Soya
Eggs
Shrimps
Sesame
£5.50
Chicken Fried Rice
Cereals gluten
Soya
Eggs
Sesame
£5.50
Yeung Chow Fried Rice
Dry. With roasted pork, chicken, prawn & peas
Cereals gluten
Soya
Mustard
Eggs
Shrimps
Sesame
£5.50
Singapore Fried Rice
Hot & spicy
Cereals gluten
Soya
Mustard
Eggs
Shrimps
Sesame
Celery
Sulphur dioxide
Chicken
Roast pork
£5.50
Roasted Pork Fried Rice
Cereals gluten
Soya
Eggs
Sesame
£5.50
Beef Fried Rice
Cereals gluten
Soya
Eggs
Sesame
£5.50
Mushroom Fried Rice
Cereals gluten
Soya
Eggs
Sesame
£5.20
Garlic & Peas Fried Rice
Cereals gluten
Soya
Eggs
Sesame
£4.80
Egg Fried Rice Small
Cereals gluten
Soya
Eggs
Sesame
£3.00
Egg Fried Rice Large
Cereals gluten
Soya
Eggs
Sesame
£3.80
Grilled Sirloin Steak
With mushroom & chips
Cereals gluten
Milk
Soya
Oyster
Sesame
£10.50
Roasted Chicken Breast in Barbecued Sauce
With mushroom & chips
Cereals gluten
Soya
Oyster
Sesame
£6.30
Quarter Roasted Chicken
With chips
Cereals gluten
Soya
Oyster
Sesame
£6.30
Special Omelette & Chips
With prawn, chicken & roasted pork
Cereals gluten
Soya
Eggs
Shrimps
Sesame
£6.80
King Prawn Omelette & Chips
Eggs
Shrimps
Sesame
£6.80
Prawn Omelette & Chips
Eggs
Shrimps
Sesame
£6.50
Chicken Omelette & Chips
Eggs
Sesame
£6.50
Mushroom Omelette & Chips
Eggs
Sesame
£5.80
Plain Omelette & Chips
Eggs
Sesame
£5.60
Jumbo Sausage & Chips
Cereals gluten
Soya
Sesame
£3.80
Fried Mushroom
Cereals gluten
Soya
Oyster
Sesame
£4.80
Fried Mushroom in Black Bean Sauce
Cereals gluten
Soya
Oyster
Sesame
£4.80
Fried Beansprouts
Cereals gluten
Soya
Oyster
Sesame
£3.80
Fried Mixed Vegetables
Cereals gluten
Soya
Oyster
Sesame
Celery
£4.00
Fried Mixed Vegetable in Szechuan Style
Hot & spicy
Cereals gluten
Soya
Oyster
Sesame
Celery
£4.50
Fried Mixed Vegetables in Black Bean Sauce
Cereals gluten
Soya
Oyster
Sesame
Celery
£4.50
Fried Mixed Vegetables with Cashew Nuts
Nuts
Cereals gluten
Soya
Oyster
Sesame
Celery
£4.50
Fried Mixed Vegetable in Sweet & Sour Sauce
Cereals gluten
Soya
Oyster
Sesame
Celery
£4.50
Fried Bamboo Shoots & Water Chestnuts
Cereals gluten
Soya
Oyster
Sesame
£4.50
Curry Sauce
Cereals gluten
Soya
Mustard
Sesame
Celery
Sulphur dioxide
£1.90
Barbecued Sauce
Cereals gluten
Soya
Sesame
£1.90
Satay Sauce
Peanuts
Cereals gluten
Soya
Mustard
Shrimps
Sesame
Celery
Sulphur dioxide
£1.90
House Special Sauce
Cereals gluten
Fish
Shrimps
Sesame
£1.90
Hoi Sin Sauce
Cereals gluten
Soya
Sesame
£1.90
Pineapple Fritter in Syrup
£3.60
Banana Fritter in Syrup
Cereals gluten
£3.60
Pineapple Fritter in Syrup
Cereals gluten
£3.60
Set Dinner A For Two Persons
Sweet & Sour Chicken Balls (10)
Pork Chop Suey
Beef with Mushrooms
Egg Fried Rice (Large)
£21.80
Set Dinner B For Two Persons
Sweet & Sour Pork (Hong Kong Style)
Beef with Green Pepper & Black Bean Sauce 
Chicken in Lemon Sauce
Yeung Chow Fried Rice (Large)
£23.50
Set Dinner C For Four Persons
Crispy Peking Spring Rolls (8)
Sweet & Sour Chicken (Hong Kong Style)
Roast Duck with Plum Sauce 
Kung Po King Prawn (with Cashew Nuts, Hot & Spicy)
Beef with Satay Sauce (in a Hot & Spicy Peanuts Sauce)
Chinese Mixed Vegetables
Yeung Chow Fried Rice (2 Large) 
Prawn Crackers
£51.80
Set Dinner D Vegetarian Meal For Two Persons
Deep Fried Tofu with Salt and Chilli
Mixed Vegetables with Cashew Nuts 
Fried Mushrooms in Black Bean Sauce
Egg Fried Rice (Large)
£20.50
Set Dinner D For Three Persons
Sweet & Sour KIng Prawns (Hong Kong Style)
Beef with Onions in House Special Sauce 
Chicken in Mandarin Style (in Garlic & Chinese Wine Sauce)
Roasted Pork with Cashew Nuts 
Yeung Chow Fried Rice (2)
Prawn Crackers
£37.00
Set Dinner F Meal For Two Or More Persons For 2 Persons
Aromatic Crispy Duck 
Kung Po Pork (with Cashew Nuts, Hot & Spicy)
Sweet & Sour Chicken Hong Kong Style
Beef with Green Pepper & Black Bean Sauce
Yeung Chow Fried Rice (Large)
Prawn Crackers
£35.00
Set Dinner F Meal For Two Or More Persons For 4 Persons
Aromatic Crispy Duck 
Kung Po Pork (with Cashew Nuts, Hot & Spicy)
Sweet & Sour Chicken Hong Kong Style
Beef with Green Pepper & Black Bean Sauce
Yeung Chow Fried Rice (Large)
Prawn Crackers
£67.50
Aromatic Crispy Vegetarian Mock Duck Meat
£8.50
Sliced Roasted Vegetarian Mock Duck Meat
Sliced Roasted Vegetarian Mock Duck Meat with Green Pepper and Black Bean Sauce 
Hot
Spicy
£6.50
Sliced Roasted Vegetarian Mock Duck Meat
Sliced Roasted Vegetarian Mock Duck Meat Szechuan Style
Spicy
£6.50
Sliced Roasted Vegetarian Mock Duck Meat
Sliced Roasted Vegetarian Mock Duck Meat with Satay Sauce
Spicy
£6.50
Vegetarian Mock Duck Meat Curry
Spicy
£6.50
Deep Fried Tofu with Salt & Chilli
£5.60
Hong Kong Tofu with Sweet & Sour Sauce
£5.60
Fried Mixed Tofu in Szechuan Sauce
£5.60
Aromatic Crispy Vegetarian Mock Chicken Meat
£8.50
Vegetarian Mock Chicken Meat
Vegetarian Mock Chicken Meat with Green Pepper and Black Bean Sauce
Hot 
Spicy
£6.50
Vegetarian Mock Chicken Meat Szechuan Style
Spicy
£6.50
Vegetarian Mock Chicken Meat with Satay Sauce
Spicy
£6.50
Vegetarian Mock Chicken Meat Curry
£6.50
Contact Us
Find Us
170 Fair Oak Road, Eastleigh, SO508HA