About Us
Golden Jade is a Chinese takeaway in Eastleigh. Why don't you try our Mushrooms Chop Suey or King Prawns with Onions in House Special Sauce?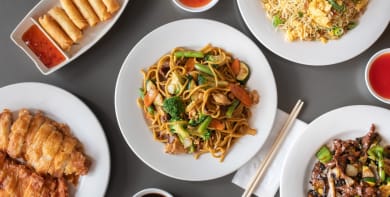 Reviews
335 reviews
CHRISSY
"Always good food"
16/06/2021
Jane
"Lovely food as always"
12/06/2021
Carole
"Very easy to place an order."
12/06/2021
Tomasz
"Perfect Service. Delivery on time and food was very nice..."
04/06/2021
Menu
Hot Imperial Starter with Satay Sauce Dip
For 2 persons
Sesame Prawn Toast, Crispy Seaweed, Peking Spring Rolls, Chicken Satay Skewers, Spicy Spare Ribs
£10.00
Deep Fried King Prawn with Salt & Chilli
Hot
Cereals gluten
Eggs
Shrimps
Sesame
£6.70
Deep Fried Chicken with Salt & Chilli
Hot
Cereals gluten
Eggs
Sesame
£6.00
Deep Fried Chicken Wings with Salt & Chilli
Hot
6 Pieces
Cereals gluten
Soya
Eggs
Oyster
Sesame
£6.00
Deep Fried Chicken Wings with House Special Sauce
Hot, 6 pieces
Cereals gluten
Soya
Eggs
Oyster
Sesame
£6.00
Deep Fried Chicken Wings with Honey Sauce
6 Pieces
Cereals gluten
Soya
Eggs
Oyster
Sesame
£6.00
Deep Fried Squid with Salt & Chilli
Hot
Cereals gluten
Eggs
Squid
Sesame
£6.50
Deep Fried Squid with Sweet & Sour Sauce
Cereals gluten
Eggs
Squid
Sesame
£6.50
Deep Fried Shredded Beef in Honey Sauce
Large
Cereals gluten
Eggs
Sesame
£6.20
Deep Fried Shredded Beef with Salt & Chilli
£6.40
Deep Fried Shredded Chicken in Honey Sauce
Large
Cereals gluten
Eggs
Sesame
£6.40
Deep Fried Shredded Chicken with Salt & Chilli
£6.40
Chicken Satay Skewers (4)
Cereals gluten
Peanuts
Soya
Mustard
Shrimps
Sesame
Celery
Sulphur dioxide
£5.60
Deep Fried Steamed Bread in Honey Sauce
£5.00
Deep Fried Steamed Bread with Salt & Chilli
Spicy
£5.00
Sesame Prawn Toast
Cereals gluten
Eggs
Shrimps
Sesame
£4.30
Crispy Seaweed
Sesame
Eggs
Soya
Cereals gluten
Fish
£4.30
Crispy Pancake Roll
Cereals gluten
Shrimps
Sesame
£2.60
Crispy Peking Spring Rolls
2 pieces
Cereals gluten
Shrimps
Oyster
Sesame
£3.00
Peking Duck Spring Rolls (3)
£3.00
Mini Vegetable Spring Rolls (10)
£3.00
Chicken & Sweetcorn Soup
Eggs
Sesame
£3.00
Crab Meat & Sweetcorn Soup
Crab
Eggs
Sesame
£3.50
Won Ton Soup
Shrimps
Sesame
£3.50
Chicken & Noodle Soup
Cereals gluten
Soya
Sesame
£2.80
Hot & Sour Soup
Peking style
Hot
Cereals gluten
Soya
Eggs
Shrimps
Sesame
£3.20
Chicken & Mushroom Soup
Cereals gluten
Soya
Sesame
£2.80
Aromatic Crispy Duck Quarter
Served with spring onions, cucumber, pancake & Hoisin sauce
Cereals gluten
Soya
Oyster
Sesame
£10.50
Aromatic Crispy Duck Half
Served with spring onions, cucumber, pancake & Hoisin sauce
Cereals gluten
Soya
Oyster
Sesame
£20.00
Aromatic Crispy Duck Whole
Served with spring onions, cucumber, pancake & Hoisin sauce
Cereals gluten
Soya
Oyster
Sesame
£38.50
Sliced Roasted Duck with Onions in House Special
Hot
Sauce
Served in a delicious hot & spicy sauce
Cereals gluten
Shrimps
Oyster
Sesame
£6.90
Sliced Roasted Duck with Mushroom
Cereals gluten
Soya
Oyster
Sesame
£6.90
Sliced Roasted Duck with Pineapple
Cereals gluten
Soya
Oyster
Sesame
£6.90
Sliced Roasted Duck with Chinese Style
Cereals gluten
Soya
Oyster
Sesame
£6.90
Sliced Roasted Duck with Sweet Corns
£6.90
Sliced Roasted Duck with Lemon Sauce
Cereals gluten
Soya
Sesame
£6.90
Sliced Roasted Duck with Plum Sauce
Cereals gluten
Soya
Sesame
£6.90
Sliced Roasted Duck with Cashew Nuts
Cereals gluten
Nuts
Soya
Oyster
Sesame
£6.90
Sliced Roasted Duck with Green Pepper
And black bean sauce
Hot
Cereals gluten
Soya
Oyster
Sesame
£6.90
Sliced Roasted Duck with Szechuan Style
Hot & spicy
With Chinese Preserved Vegetables & Hot Chilli Sauce
Cereals gluten
Soya
Oyster
Sesame
£6.90
King Prawns with Onions in House Special Sauce
Served in a delicious hot & spicy sauce
Cereals gluten
Fish
Shrimps
Sesame
£6.70
King Prawns with Ginger & Spring Onions
Cereals gluten
Soya
Shrimps
Oyster
Sesame
£6.70
King Prawns with Green Pepper & Black Bean Sauce
Hot
Cereals gluten
Soya
Shrimps
Oyster
Sesame
£6.70
King Prawns with Bamboo Shoots & Water Chestnuts
Cereals gluten
Soya
Shrimps
Oyster
Sesame
£6.70
King Prawns with Cashew Nuts
Nuts
Cereals gluten
Soya
Shrimps
Oyster
Sesame
£6.70
King Prawns with Sweet Corns
£6.70
King Prawns with Satay Sauce
Served in a hot & spicy peanut sauce
Cereals gluten
Soya
Mustard
Peanuts
Shrimps
Oyster
Sesame
Celery
Sulphur dioxide
£6.70
King Prawns with Mushrooms in Black Bean Sauce
Cereals gluten
Soya
Shrimps
Oyster
Sesame
£6.70
King Prawns with Mushrooms
Cereals gluten
Soya
Shrimps
Oyster
Sesame
£6.70
King Prawns with Oyster Sauce
Cereals gluten
Soya
Shrimps
Oyster
Sesame
£6.70
King Prawns with Mandarin Style
Served in garlic & Chinese wine sauce
Cereals gluten
Soya
Shrimps
Oyster
Sesame
£6.70
Kung Po King Prawns
Served with cashew nuts & hot spicy sauce
Cereals gluten
Nuts
Soya
Eggs
Shrimps
Oyster
Sesame
£6.70
Szechuan Chilli King Prawns
With Chinese preserved vegetables & hot chilli sauce
Hot
Cereals gluten
Soya
Shrimps
Oyster
Sesame
£6.70
Chicken with Onions in House Special Sauce
Served in a delicious hot & spicy sauce
Cereals gluten
Fish
Shrimps
Sesame
£6.00
Fried Chicken Mandarin Style
In garlic & Chinese wine sauce
Cereals gluten
Soya
Oyster
Sesame
£6.00
Fried Chicken in Lemon Sauce
Eggs
Sesame
£6.00
Fried Chicken in Orange Cointreau Sauce
Eggs
Sesame
£6.00
Chicken with Cashew Nuts
Cereals gluten
Nuts
Soya
Oyster
Sesame
£6.00
Chicken with Ginger & Spring Onions
Cereals gluten
Soya
Oyster
Sesame
£6.00
Chicken with Green Pepper & Black Bean Sauce
Hot
Cereals gluten
Soya
Oyster
Sesame
£6.00
Chicken with Mushrooms in Black Bean Sauce
Cereals gluten
Soya
Oyster
Sesame
£6.00
Chicken with Mushrooms
Cereals gluten
Soya
Oyster
Sesame
£6.00
Chicken with Bamboo Shoots & Water Chestnuts
Cereals gluten
Soya
Oyster
Sesame
£6.00
Chicken with Satay Sauce
In a hot & spicy peanut sauce
Mustard
Cereals gluten
Soya
Peanuts
Shrimps
Oyster
Sesame
Celery
Sulphur dioxide
£6.00
Chicken with Pineapple
Cereals gluten
Sesame
£6.00
Chicken with Oyster Sauce
Cereals gluten
Soya
Oyster
Sesame
£6.00
Chicken with Mixed Vegetables
Milk
Sesame
£6.00
Roasted Chicken Chinese Style
Cereals gluten
Soya
Oyster
Sesame
£6.00
Szechuan Chilli Chicken
With Chinese preserved vegetables & hot chilli sauce
Cereals gluten
Soya
Oyster
Sesame
£6.00
Kung Po Chicken
With cashew nuts & hot spicy sauce
Nuts
Cereals gluten
Soya
Eggs
Oyster
Sesame
£6.00
Deep Fried Shredded Chicken Szechuan Style
Large, hot & spicy
Cereals gluten
Soya
Eggs
Oyster
Sesame
Celery
£6.50
Deep Fried Shredded Chicken Sweet Sour
Large, Sweet & sour sauce
Cereals gluten
Soya
Eggs
Oyster
Sesame
Celery
£6.50
Deep Fried Shredded Chicken House Special
Large,
In house special sauce, delicious hot & spicy sauce
Cereals gluten
Eggs
Fish
Shrimps
Oyster
Sesame
Celery
£6.50
Prawns with Onions in House Special Sauce
In a delicious hot & spicy sauce
Cereals gluten
Fish
Shrimps
Sesame
£5.90
Prawns with Cashew Nuts
Nuts
Cereals gluten
Soya
Shrimps
Oyster
Sesame
£5.90
Prawns with Green Pepper & Black Bean Sauce
Cereals gluten
Soya
Shrimps
Oyster
Sesame
£5.90
Prawns with Ginger & Spring Onions
Cereals gluten
Soya
Shrimps
Oyster
Sesame
£5.90
Prawns with Bamboo Shoots & Water Chestnuts
Cereals gluten
Soya
Shrimps
Oyster
Sesame
£5.90
Prawns with Satay Sauce
In a hot & spicy peanuts sauce
Mustard
Cereals gluten
Soya
Peanuts
Shrimps
Oyster
Sesame
Celery
Sulphur dioxide
£5.90
Prawns with Mushrooms
Cereals gluten
Soya
Shrimps
Oyster
Sesame
£5.90
Prawns with Mushrooms in Black Bean Sauce
Cereals gluten
Soya
Shrimps
Oyster
Sesame
£5.90
Prawns with Pineapple
Cereals gluten
Soya
Shrimps
Sesame
£5.90
Szechuan Chilli Prawns
With Chinese preserved vegetables & hot chilli sauce
Cereals gluten
Soya
Shrimps
Oyster
Sesame
£5.90
House Special Chop Suey
Cereals gluten
Soya
Shrimps
Oyster
Sesame
£6.00
King Prawns Chop Suey
Cereals gluten
Soya
Shrimps
Oyster
Sesame
£6.70
Chicken Chop Suey
Cereals gluten
Soya
Oyster
Sesame
£5.60
Prawn Chop Suey
Cereals gluten
Soya
Shrimps
Oyster
Sesame
£5.60
Beef Chop Suey
Cereals gluten
Soya
Oyster
Sesame
£5.60
Roasted Pork Chop Suey
Cereals gluten
Soya
Oyster
Sesame
£5.60
Pork Chop Suey
Cereals gluten
Soya
Oyster
Sesame
£5.60
Mushrooms Chop Suey
Cereals gluten
Soya
Oyster
Sesame
£5.60
Beef with Onions in House Special Sauce
In a delicious hot & spicy sauce
Cereals gluten
Fish
Shrimps
Sesame
£6.00
Beef with Ginger & Spring Onions
Cereals gluten
Soya
Oyster
Sesame
£6.00
Beef with Green Pepper & Black Bean Sauce
Cereals gluten
Soya
Sesame
£6.00
Beef with Mushrooms in Black Bean Sauce
Cereals gluten
Soya
Oyster
Sesame
£6.00
Beef with Mushrooms
Cereals gluten
Soya
Oyster
Sesame
£6.00
Beef with Bamboo Shoots & Water Chestnuts
Cereals gluten
Soya
Oyster
Sesame
£6.00
Beef with Oyster Sauce
Cereals gluten
Soya
Oyster
Sesame
£6.00
Beef with Satay Sauce
In a hot & spicy peanuts sauce
Peanuts
Cereals gluten
Soya
Mustard
Shrimps
Oyster
Sesame
Celery
Sulphur dioxide
£6.00
Beef with Cashew Nuts
Cereals gluten
Milk
Sesame
£6.00
Szechuan Chilli Beef
With Chinese preserved vegetables & hot chilli sauce
Cereals gluten
Soya
Oyster
Sesame
£6.00
Deep Fried Shredded Beef Szechuan
Large, hot & spicy
Cereals gluten
Soya
Eggs
Fish
Oyster
Sesame
Celery
£6.50
Deep Fried Shredded Beef Sweet Sour
Large, In sweet & sour sauce
Cereals gluten
Soya
Eggs
Fish
Oyster
Sesame
Celery
£6.50
Deep Fried Shredded Beef House Special
Large
Delicious hot & spicy sauce
Cereals gluten
Eggs
Fish
Shrimps
Oyster
Sesame
Celery
£6.50
Barbecued Spare Ribs
Cereals gluten
Soya
Oyster
Sesame
£6.70
Sweet & Sour Spare Ribs
Chopped
Cereals gluten
Soya
Oyster
Sesame
£6.70
Spare Ribs with Green Pepper & Black Bean Sauce
Chopped
Cereals gluten
Soya
Oyster
Sesame
£6.70
Spare Ribs with Salt & Chilli
Chopped, Dry & Spicy
Cereals gluten
Soya
Oyster
Sesame
£6.70
Spare Ribs with House Special Sauce
Chopped, served in a delicious hot & spicy sauce
Cereals gluten
Soya
Fish
Shrimps
Oyster
Sesame
£6.70
Spare Ribs with Honey Sauce
Chopped
Cereals gluten
Soya
Oyster
Sesame
£6.70
Pork with Onions in House Special Sauce
Served in a delicious hot & spicy sauce
Cereals gluten
Fish
Oyster
Sesame
£6.00
Pork with Satay Sauce
Served in a hot & spicy peanut sauce
Peanuts
Shrimps
Cereals gluten
Soya
Mustard
Oyster
Sesame
Celery
Sulphur dioxide
£6.00
Pork with Mushrooms
Cereals gluten
Soya
Oyster
Sesame
£6.00
Pork with Mushrooms in Black Bean Sauce
Cereals gluten
Soya
Oyster
Sesame
£6.00
Pork with Green Pepper in Black Bean Sauce
Cereals gluten
Soya
Oyster
Sesame
£6.00
Pork with Bamboo Shoots & Water Chestnuts
Cereals gluten
Soya
Oyster
Sesame
£6.00
Pork with Ginger & Spring Onions
Cereals gluten
Soya
Oyster
Sesame
£6.00
Roasted Pork with Mushrooms
Cereals gluten
Soya
Oyster
Sesame
£6.00
Roasted Pork with Cashew Nuts
Nuts
Cereals gluten
Soya
Oyster
Sesame
£6.00
Roasted Pork with Onions in House Special Sauce
Served in a delicious hot & spicy sauce
Cereals gluten
Soya
Oyster
Sesame
£6.00
Szechuan Chilli Roasted Pork
Served with Chinese preserved vegetables & hot chilli sauce
Cereals gluten
Soya
Oyster
Sesame
£6.00
Kung Po Pork
Served with cashew nuts & hot spicy sauce
Cereals gluten
Nuts
Soya
Oyster
Sesame
£6.00
Roasted Pork with Satay Sauce
Served in a hot & spicy peanut sauce
Peanuts
Shrimps
Sulphur dioxide
Celery
Mustard
Cereals gluten
Soya
Oyster
Sesame
£6.00
Sweet & Sour Mixed (Balls)
10 Pieces
Cereals gluten
Shrimps
Sesame
£6.50
Sweet & Sour King Prawn (Balls)
10 Pieces
Cereals gluten
Shrimps
Sesame
£6.70
Sweet & Sour Chicken (Balls)
10 Pieces
Cereals gluten
Sesame
£5.90
Sweet & Sour Pork (Balls)
10 pieces
Cereals gluten
Sesame
£5.80
Sweet & Sour Mixed
Hong Kong style
Cereals gluten
Soya
Eggs
Oyster
Sesame
£6.60
Sweet & Sour King Prawns
Hong Kong style
Cereals gluten
Soya
Eggs
Shrimps
Oyster
Sesame
£6.70
Sweet & Sour Chicken
Hong Kong style
Cereals gluten
Soya
Eggs
Oyster
Sesame
£5.90
Sweet & Sour Pork
Hong Kong style
Cereals gluten
Soya
Eggs
Oyster
Sesame
£5.90
House Special Curry
With beef, chicken & prawns
Cereals gluten
Soya
Mustard
Eggs
Shrimps
Sesame
Celery
Sulphur dioxide
£6.90
Mixed Meat Curry
With beef, chicken & pork
Cereals gluten
Soya
Mustard
Eggs
Sesame
Celery
Sulphur dioxide
£6.90
King Prawn Curry
Cereals gluten
Soya
Mustard
Eggs
Shrimps
Sesame
Celery
Sulphur dioxide
£6.90
Prawn Curry
Cereals gluten
Soya
Mustard
Eggs
Shrimps
Sesame
Celery
Sulphur dioxide
£6.40
Chicken Curry
Cereals gluten
Soya
Mustard
Eggs
Sesame
Celery
Sulphur dioxide
£6.40
Beef Curry
Cereals gluten
Soya
Mustard
Eggs
Sesame
Celery
Sulphur dioxide
£6.40
Pork Curry
Cereal Gluten
Soya
Mustard
Egg
Sesame
Celery
Sulphur Dioxide
£6.40
Roasted Pork Curry
Cereal Gluten
Soya
Mustard
Egg
Sesame
Celery
Sulphur Dioxide
£6.40
Mixed Vegetables Curry
Cereal Gluten
Soya
Mustard
Egg
Sesame
Celery
Sulphur Dioxide
£5.80
Mushroom Curry
Cereal Gluten
Soya
Mustard
Egg
Sesame
Celery
Sulphur Dioxide
£5.80
Shredded Roast Pork Foo Yung
£5.70
House Special Foo Yung
Cereals gluten
Eggs
Shrimps
Sesame
£6.40
King Prawn Foo Yung
Eggs
Shrimps
Sesame
£6.70
Prawn Foo Yung
Eggs
Shrimps
Sesame
£5.70
Chicken Foo Yung
Eggs
Sesame
£5.70
Shredded Roasted Pork Foo Yung
Cereals gluten
Soya
Eggs
Sesame
£5.70
Mushroom Foo Yung
Eggs
Sesame
£5.50
Peking Style Chilli King Prawn
Cereals gluten
Shrimps
Sesame
£6.70
Peking Style Chilli Roasted Duck
Cereals gluten
Sesame
£6.70
Peking Style Chilli Prawn
Cereals gluten
Shrimps
Sesame
£6.10
Peking Style Chilli Beef
Cereals gluten
Sesame
£6.10
Peking Style Chilli Chicken
Cereals gluten
Sesame
£6.10
Peking Style Chilli Pork
Cereals gluten
Sesame
£6.10
Peking Style Chilli Roasted Pork
Cereals gluten
Soya
Sesame
£6.10
Golden Jade Special
Large
Hot & Spicy
Gentle stir fried king prawn, beef, chicken cooked in a hot & fruity house special sauce, with chilli & lemon grass, giving unique pungent flavour which is both spicy & sharp
Cereals gluten
Soya
Fish
Shrimps
Sesame
£7.00
Peking Chilli Sensation
Large.
An exquisite dish of king prawn, beef, chicken cooked with fresh chilli & different kinds of Chinese spices, hot & spicy
Cereals gluten
Soya
Shrimps
Sesame
£7.00
Happy Family
Large
An exquisite dish of king prawn, roasted pork, chicken, beef & vegetables cooked in a black bean sauce
Cereals gluten
Soya
Shrimps
Oyster
Sesame
Celery
£7.00
Mushroom Delight
Large
Gentle stir fried king prawn, beef & chicken with mushroom, onion, green pepper in garlic & soy sauce
Cereals gluten
Soya
Shrimps
Oyster
Sesame
Celery
£7.00
House Special Chow Mein
With mixed meat & mixed vegetables, top with barbecued sauce
Cereals gluten
Soya
Shrimps
Oyster
Sesame
£6.60
King Prawn Chow Mein
Cereals gluten
Soya
Shrimps
Sesame
£6.60
Shredded Roasted Duck Chow Mein
Cereals gluten
Soya
Sesame
£6.60
Prawn Chow Mein
Cereals gluten
Soya
Shrimps
Sesame
£5.90
Chicken Chow Mein
Cereals gluten
Soya
Sesame
£5.90
Beef Chow Mein
Cereals gluten
Soya
Sesame
£5.90
Pork Chow Mein
Cereals gluten
Soya
Sesame
£5.90
Roasted Pork Chow Mein
Cereals gluten
Soya
Sesame
£5.90
Singapore Chow Mein
Hot & spicy
Peanuts
Cereals gluten
Soya
Shrimps
Sesame
Sulphur dioxide
Celery
Mustard
Chicken
Roast pork
£5.90
Singapore Vermicelli (Noodles)
Hot & spicy
Peanuts
Cereals gluten
Soya
Shrimps
Sesame
Mustard
Celery
Sulphur dioxide
Chicken
Roast pork
£5.90
Fried Vegetable Vermicelli Singapore Style
Hot & spicy
Peanuts
Cereals gluten
Soya
Shrimps
Sesame
Mustard
Celery
Sulphur dioxide
£5.90
Yeung Chow Chow Mein
With chicken, roasted pork & prawn
Cereals gluten
Soya
Shrimps
Sesame
£5.90
Mushroom Chow Mein
Cereal Gluten
Soya
Sesame
£5.90
Vegetable Chow Mein
Cereal Glutem
Soya
Sesame
Celery
£5.90
Plain Chow Mein with Beansprouts
Small
Cereal Gluten
Soya
£4.80
House Special Fried Rice
Large. With mixed meat & mixed vegetables, top with barbecued sauce
Cereals gluten
Soya
Eggs
Shrimps
Oyster
Sesame
£6.50
Shredded Roasted Duck Fried Rice
Cereals gluten
Soya
Eggs
Sesame
£6.50
King Prawn Fried Rice
Cereals gluten
Soya
Eggs
Shrimps
Sesame
£6.50
Prawn Fried Rice
Cereals gluten
Soya
Eggs
Shrimps
Sesame
£5.50
Chicken Fried Rice
Cereals gluten
Soya
Eggs
Sesame
£5.50
Yeung Chow Fried Rice
Dry. With roasted pork, chicken, prawn & peas
Cereals gluten
Soya
Mustard
Eggs
Shrimps
Sesame
£5.50
Singapore Fried Rice
Hot & spicy
Cereals gluten
Soya
Mustard
Eggs
Shrimps
Sesame
Celery
Sulphur dioxide
Chicken
Roast pork
£5.50
Roasted Pork Fried Rice
Cereals gluten
Soya
Eggs
Sesame
£5.50
Beef Fried Rice
Cereals gluten
Soya
Eggs
Sesame
£5.50
Mushroom Fried Rice
Cereals gluten
Soya
Eggs
Sesame
£5.20
Garlic & Peas Fried Rice
Cereals gluten
Soya
Eggs
Sesame
£4.80
Egg Fried Rice Small
Cereals gluten
Soya
Eggs
Sesame
£3.00
Egg Fried Rice Large
Cereals gluten
Soya
Eggs
Sesame
£3.80
Grilled Sirloin Steak
With mushroom & chips
Cereals gluten
Milk
Soya
Oyster
Sesame
£10.50
Roasted Chicken Breast in Barbecued Sauce
With mushroom & chips
Cereals gluten
Soya
Oyster
Sesame
£6.30
Quarter Roasted Chicken
With chips
Cereals gluten
Soya
Oyster
Sesame
£6.30
Special Omelette & Chips
With prawn, chicken & roasted pork
Cereals gluten
Soya
Eggs
Shrimps
Sesame
£6.80
King Prawn Omelette & Chips
Eggs
Shrimps
Sesame
£6.80
Prawn Omelette & Chips
Eggs
Shrimps
Sesame
£6.50
Chicken Omelette & Chips
Eggs
Sesame
£6.50
Mushroom Omelette & Chips
Eggs
Sesame
£5.80
Plain Omelette & Chips
Eggs
Sesame
£5.60
Jumbo Sausage & Chips
Cereals gluten
Soya
Sesame
£3.80
Fried Mushroom
Cereals gluten
Soya
Oyster
Sesame
£4.80
Fried Mushroom in Black Bean Sauce
Cereals gluten
Soya
Oyster
Sesame
£4.80
Fried Beansprouts
Cereals gluten
Soya
Oyster
Sesame
£3.80
Fried Mixed Vegetables
Cereals gluten
Soya
Oyster
Sesame
Celery
£4.00
Fried Mixed Vegetable in Szechuan Style
Hot & spicy
Cereals gluten
Soya
Oyster
Sesame
Celery
£4.50
Fried Mixed Vegetables in Black Bean Sauce
Cereals gluten
Soya
Oyster
Sesame
Celery
£4.50
Fried Mixed Vegetables with Cashew Nuts
Nuts
Cereals gluten
Soya
Oyster
Sesame
Celery
£4.50
Fried Mixed Vegetable in Sweet & Sour Sauce
Cereals gluten
Soya
Oyster
Sesame
Celery
£4.50
Fried Bamboo Shoots & Water Chestnuts
Cereals gluten
Soya
Oyster
Sesame
£4.50
Curry Sauce
Cereals gluten
Soya
Mustard
Sesame
Celery
Sulphur dioxide
£1.90
Barbecued Sauce
Cereals gluten
Soya
Sesame
£1.90
Satay Sauce
Peanuts
Cereals gluten
Soya
Mustard
Shrimps
Sesame
Celery
Sulphur dioxide
£1.90
House Special Sauce
Cereals gluten
Fish
Shrimps
Sesame
£1.90
Hoi Sin Sauce
Cereals gluten
Soya
Sesame
£1.90
Pineapple Fritter in Syrup
£3.60
Banana Fritter in Syrup
Cereals gluten
£3.60
Pineapple Fritter in Syrup
Cereals gluten
£3.60
Set Dinner A For Two Persons
Sweet & Sour Chicken Balls (10)
Pork Chop Suey
Beef with Mushrooms
Egg Fried Rice (Large)
£21.80
Set Dinner B For Two Persons
Sweet & Sour Pork (Hong Kong Style)
Beef with Green Pepper & Black Bean Sauce 
Chicken in Lemon Sauce
Yeung Chow Fried Rice (Large)
£23.50
Set Dinner C For Four Persons
Crispy Peking Spring Rolls (8)
Sweet & Sour Chicken (Hong Kong Style)
Roast Duck with Plum Sauce 
Kung Po King Prawn (with Cashew Nuts, Hot & Spicy)
Beef with Satay Sauce (in a Hot & Spicy Peanuts Sauce)
Chinese Mixed Vegetables
Yeung Chow Fried Rice (2 Large) 
Prawn Crackers
£51.80
Set Dinner D Vegetarian Meal For Two Persons
Deep Fried Tofu with Salt and Chilli
Mixed Vegetables with Cashew Nuts 
Fried Mushrooms in Black Bean Sauce
Egg Fried Rice (Large)
£20.50
Set Dinner D For Three Persons
Sweet & Sour KIng Prawns (Hong Kong Style)
Beef with Onions in House Special Sauce 
Chicken in Mandarin Style (in Garlic & Chinese Wine Sauce)
Roasted Pork with Cashew Nuts 
Yeung Chow Fried Rice (2)
Prawn Crackers
£37.00
Set Dinner F Meal For Two Or More Persons For 2 Persons
Aromatic Crispy Duck 
Kung Po Pork (with Cashew Nuts, Hot & Spicy)
Sweet & Sour Chicken Hong Kong Style
Beef with Green Pepper & Black Bean Sauce
Yeung Chow Fried Rice (Large)
Prawn Crackers
£35.00
Set Dinner F Meal For Two Or More Persons For 4 Persons
Aromatic Crispy Duck 
Kung Po Pork (with Cashew Nuts, Hot & Spicy)
Sweet & Sour Chicken Hong Kong Style
Beef with Green Pepper & Black Bean Sauce
Yeung Chow Fried Rice (Large)
Prawn Crackers
£67.50
Aromatic Crispy Vegetarian Mock Duck Meat
£8.50
Sliced Roasted Vegetarian Mock Duck Meat
Sliced Roasted Vegetarian Mock Duck Meat with Green Pepper and Black Bean Sauce 
Hot
Spicy
£6.50
Sliced Roasted Vegetarian Mock Duck Meat
Sliced Roasted Vegetarian Mock Duck Meat Szechuan Style
Spicy
£6.50
Sliced Roasted Vegetarian Mock Duck Meat
Sliced Roasted Vegetarian Mock Duck Meat with Satay Sauce
Spicy
£6.50
Vegetarian Mock Duck Meat Curry
Spicy
£6.50
Deep Fried Tofu with Salt & Chilli
£5.60
Hong Kong Tofu with Sweet & Sour Sauce
£5.60
Fried Mixed Tofu in Szechuan Sauce
£5.60
Aromatic Crispy Vegetarian Mock Chicken Meat
£8.50
Vegetarian Mock Chicken Meat
Vegetarian Mock Chicken Meat with Green Pepper and Black Bean Sauce
Hot 
Spicy
£6.50
Vegetarian Mock Chicken Meat Szechuan Style
Spicy
£6.50
Vegetarian Mock Chicken Meat with Satay Sauce
Spicy
£6.50
Vegetarian Mock Chicken Meat Curry
£6.50
Contact Us
Find Us
170 Fair Oak Road, Eastleigh, SO508HA